Bulletin Bottle [.com] is a hand-curated selection of custom water bottles featuring a variety of colors, designs, and material choices for your unique brand identity. All custom water bottles on Bulletin Bottle [.com] are BPA free. Water bottles that are denoted as child-safe are age graded and tested for CPSIA compliance. Click for more information on custom water bottles and product safety.
Did you hear about the crazy long lines at Google's Mobile World Congress booth? The buzz was about, in part, their custom water bottle promotion.
The booth WAS pretty sweet. From smoothies to high-fives, robotic sketch artists to topiaries…it was full of mega-fun stuff. But Android's custom water bottle promotion was a big deal at the show. Visitors could create a print and have it painted onto one of 5000 water bottles. Everyone wanted one!
But, what if you're not Google? What if you want to make a big splash with your custom water bottle promotion, but don't have unlimited funds? How do you create a buzz at your next trade show? Here are 5 things for you to consider: Continue reading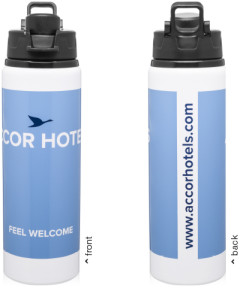 Have you seen our Thermal Insulated Water Bottle? If not, you have to check it out. This one's styled after the uber-popular S'well bottle, making it at once trendy, classic, AND customizable!
When planning a project, it can be daunting to decide your bottle logos should look like. Should you use your company logo? Design something new? How do you maximize the imprint area and make your message stand out? With the seamless wrap that's now available on some of our products, bottle logos have never looked so great!
Many of our clients have expressed the desire to make their bottle logos fully wrap around. Up until now, the only option was a wrapped design with a gap, usually about ¾", to avoid smearing and lessen the appearance of slight misalignment. The technology just wasn't there to craft full wraps with perfect precision. Until now. Continue reading